Mission Statement: The Youth Ministry of St. Catherine Labouré seeks to welcome teens in grades 6 through 12. All youth are welcomed into a Christ-centered community where everyone will grow together in faith through spiritual, social, and service opportunities. Like our patron saint we are dedicated to bringing all youth into the loving hearts of both Jesus and Mary. We will do this by supporting each individual through their unique talents so they are able to live out and defend their Catholic faith in their everyday life.
Youth Catechetical Programs – PLEASE READ!
Middle School Classes – Mondays 6:30 – 8:00 p.m.
High School Classes – Wednesdays 6:30 – 8:00 p.m.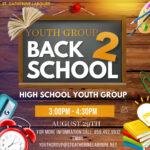 Youth Group – Sundays from 3:00 – 4:30 p.m. Keep an eye on the bulletin and follow us on Instagram for updates on upcoming High School events and activities. No registration is required, just come to our events as you are able and invite a friend! If you want to be reminded of our events, you can always sign up to receive updates! All are welcome!
Youth Catechisis Coordinator – Marivel Castillo
Phone: (858) 277-3738/Email: youth@stcatherinelaboure.net
Youth Minister (+ Youth Group) – Jorge Verduzco
Phone: (858) 492-9912/Email: youthgroup@stcatherinelaboure.net
Rito de Iniciación Cristiana para Adultos (RICA)
El Rito de Iniciación Cristiana para Adultos (RICA) es un proceso designado para adultos que, respondiendo a la gracia de Dios, desean convertirse en miembros plenos de la Iglesia Católica. El RICA está determinado para aquellos adultos que:
No han sido bautizados y desean formar parte de la Iglesia Católica a través del sacramento del Bautismo.
Han sido bautizados en otra comunidad cristiana y buscan la comunión plena con la Iglesia Católica.
Fueron bautizados en la fe católica en su infancia pero que no recibieron los sacramentos de la Confirmación y la Eucaristía.
Basado en la antigua práctica de recibir nuevos miembros en la comunidad cristiana, el proceso de RICA es un camino espiritual que pasa por varias etapas de oración, discernimiento y enseñanza del estilo de vida católico. El punto culminante del proceso sucede en la Pascua, que es cuando aquellos que se han estado preparando para recibir los Sacramentos de Iniciación son bautizados, confirmados y bienvenidos a la mesa Eucarística.
El grupo del RICA se reúne los miércoles de 6:30 p.m. – 7:30 p.m. en el salón de Educación Religiosa. Las sesiones comienzan el 12 de octubre.
Para iniciar el camino o necesita más información comuníquese con Josefina Rosas (858) 349-9137