Religious Education Classes are currently not in session. We are still scheduled to return on Wednesday, April 15, until further notice. Myself and my Catechists are sending out information to our students and parents for continued opportunities for religious education from their home. For access to the weekly Children's Bulletin for the weeks upcoming Sunday readings please go to www.thekidsbulletin.com. Sunday Mass can be viewed online, daily and on Sundays at: sdcatholic.org.
Hopefully during this time of family togetherness more than ever, you will spend time in family prayer. Prayers of praise, gratitude, intercession, petition, and blessing are all needed especially during this time of added stress, anxiety, social isolation and the unknown. Stay safe and healthy.
Online Registration for 2019-2020
If your child is new to our Religious Education Program, we will need a copy of their Baptismal Certificate. Click here for the English version of our Religious Education Registration Form and here for the Spanish version.
Classes: 
Click here for more information about our Religious Education Program for children in Preschool and grades 1-5.
Preschool 4 & 5 yrs
Sunday 9:15-10:30 am
Registration for Pre-school and Kindergarten classes held during the Sunday 9:30 a.m Mass is open registration. Once your child reaches 4 years old they are welcome to attend.
Grades 1-5 
Wednesday: 2:15 p.m. – 3:30 p.m. and 4:15 p.m. – 5:30 p.m.
Coordinator: Kathy Keith
kkeith@stcatherinelaboure.net or 858-278-0587
Religious Education/Youth Ministry Office Hours: Call Sun-Th (closed Fri & Sat)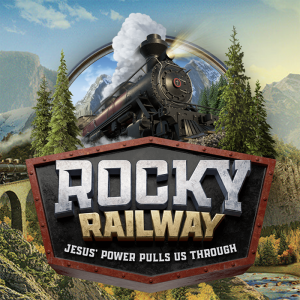 We are currently still scheduled for Vacation Bible School – Rocky Railway the week of June 15-19 from 9:00 a.m. to 12:00 p.m. Have your children come on board the Rocky Railway and learn about how "Jesus' Power will Pull us Through" through Bible stories, song, crafts, outdoor games, science and more! Registration coming in early May.