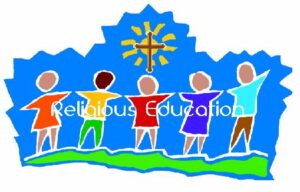 Registration is open for Children's Religious Education Classes. You may register online or print out a copy of our Registration Form and return to the Religious Education Office. If your child is new to our program, we will need a copy of their Baptismal Certificate. Please register as soon as possible.
Online Registration for 2020-2021
Printable Registration Forms: (Eng) (Spn)
Classes: 
Click here for more information about our Religious Education Program for children in Preschool and grades 1-5.
Preschool 4 & 5 yrs – open registration all year
Classes will begin on Sunday, September 27. Usually we meet in-person during the 9:30 a.m. Mass. We will offer a 20 minute online zoom preschool/Kinder class at 9:00 a.m.
Preschool 2020-2021 Calendar
Grades 1-5 
The online classes will have a required monthly check- in on Wednesdays at 2:15 p.m. or 4:15 p.m. the time you select. The printed registration form allows you to select a time. If registering online we will contact you for your time selection of 2:15 p.m. or 4:15 p.m.
Grades 1-5 2020-2021 Calendar
Here are some recommended Religious Education resources:
Catholicmom.com – Kids  weekly Gospel readings and activities:
http://catholicmom.com/kids/catholic-gospel-coloring-worksheets-sunday-mass/
Kids Bulletin – Explanation of the weekly Gospel readings and activities
Coordinator: Kathy Keith
kkeith@stcatherinelaboure.net or 858-278-0587
Religious Education Office Hours: Call Sun-Th (closed Fri & Sat)