The Prayer Quilt Ministry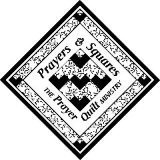 Chapter 1204, "The Kwiltin Krew"
Prayers & Squares is an interfaith outreach ministry that combines the gift of a hand-tied quilt with the gift of prayer for someone in need. The essence of this ministry is in the prayers offered for the recipient; "it's not about the quilt, it's about the prayers". This ministry began in 1992 here in San Diego and now has chapters around the world.  We tied our first quilt here at St. Catherine Laboure in June 2016!
A "Prayer Quilt" is a lap sized quilt made by members of our ministry. A heavy thread is used to take stitches through the quilt and the ends are left free to be tied with a square knot. During weekend masses the entire congregation is invited to "tie a knot, say a prayer". As each knot is tied, a silent prayer is offered for the recipient in special need – someone who has asked us to pray for them. The quilt is then given to that person.
Who gets a quilt?  Quilts are given to those persons in physical, emotional, or spiritual crisis who feel they can benefit from being "covered in prayer". They have been given to the sick, the injured, the dying for healing, comfort, and strength and to ALL ages. Judgments are never made as to their need.
How do I request a quilt?  First: the requestor/sponsor must ensure that the recipient is willing to accept the quilt and the prayers. Second: the sponsor must know the reason for the quilt and how the prayers should be directed.  Finally:  contact Vivian Simon, (619) 987-4543 or Jeanne Frater, (858) 277-5667.
How long does it take?  We try to have quilts available within two/three weeks.
"Prayer Squares" are given in situations where a prayer quilt has not been requested, but we know the individual is in need of prayer or when time is a factor. The quilt/staff members can do the tying of prayers into the squares, with family and friends of the recipient tying the untied threads. This is handled very informally and Prayer Squares are usually readily available.
JOIN OUR QUILTERS! We meet the first Saturday of each month in the Parish Hall at 10:00 a.m. ALL are welcome NO experience necessary. Contact Vivian Simon, (619) 987-4543 for more information.
Prayer Quilts are more than blankets. They are the visible, tangible evidence of faith—faith in God, faith in love and faith in prayer. They are also a symbol of our faith in one another. The knots are a sign of God's love and our faith in Him and His power to provide comfort, strength and healing in times of need.