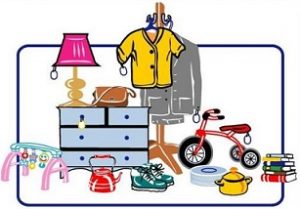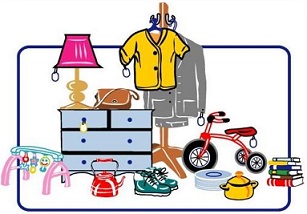 Fellow parishioners, it is time for spring cleaning. The Saint Catherine Labouré Knights of Columbus Council will be sponsoring a Rummage Sale in the Parish Hall on Saturday, June 4, and Sunday, June 5. The sale starts at 10:00 a.m. on Saturday and goes to 4:30 p.m. On Sunday the sale will be from 9:00 a.m. to 3:00 p.m. Donations can be brought to the Parish Hall staring Wednesday, May 18, to Friday, May 27, between the hours of 9:00 a.m. and 6:00 p.m. After May 27th the Knights will begin organizing and pricing the donations. The Knights are seeking good, clean and serviceable clothing, small appliances and house wares, sporting goods, books, toys, lawn, garden, household tools, electronics that work, jewelry, household decorations, sports equipment, bikes and board games. Please No Furniture.
Venta de artículos usados
Compañeros feligreses, es hora de la limpieza de primavera. El Caballero de Colón de Santa Catalina Labouré patrocinará una venta de artículos usados ​​en el salón de la iglesia el sábado y el domingo de 9:00 am a 3:00 pm. Las donaciones se pueden llevar al salón de la iglesia desde el miércoles 18 de mayo hasta el viernes 27 de mayo entre las 9:00 am y las 6:00 pm. Después del 27 de mayo, los caballeros comenzarán a organizar y cotizar las donaciones. Los Caballeros buscan ropa buena, limpia y útil, pequeños electrodomésticos y artículos para el hogar, artículos deportivos, libros, juguetes, césped, jardín, herramientas para el hogar, aparatos electrónicos que funcionen, joyas, adornos para el hogar, equipos deportivos, bicicletas y juegos de mesa. Por favor, sin muebles.