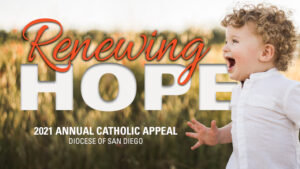 This weekend is the start of the ACA. Click on the picture above to find out more on where the resources of this appeal go to help the people of our communities.
Here is Father Brian's letter to the parish about this year's Annual Catholic Appeal.
Along with our Bishop, Robert McElroy, I invite you to participate in this year's Annual Catholic Appeal (ACA): Renewing Hope.
Bishop McElroy states in the ACA pledge card, "This year has been a time of deep hardship and struggle for all of us. And yet we stand today with a profound sense of hope, with the vaccines that will be capable of delivering us from the darkness of pandemic…"
"The work of the diocese of San Diego in the coming months will indeed be to reawaken and strengthen hope as we move out of pandemic and into a genuine renewal of the life of the Church in San Diego and Imperial Counties…This reawakening will take place through our parishes, schools, families, and in our outreach to the needs and the marginalized in our midst."
The Diocesan Offices are an essential support system for our work in renewing this hope. We in turn support the Diocese through the Annual Catholic Appeal.
The ACA also supports the training of seminarians, the ongoing formation of all of our priests, and care for elderly and retired priests. It also supports our youth and young adult ministries as well as to those who are imprisoned, and many other ministries and outreach programs.
Based on the Diocesan-wide target of $3.5 million, our parish ACA assessment for 2020 is $50,000. Your generosity in the past assures me that we will be able to make and even exceed that goal. Once we reach our goal, any funds pledged and paid over our assessed amount are returned to the parish.
Today we have available the Renewing Hope brochure, which includes a detachable envelope with a giving guide and a pledge response form. Please prayerfully consider what you can pledge this year. No payment is required when you make the pledge, though can include partial or full payment if you prefer. You can put the completed response envelope in the basket today, or bring it back in the next few weeks. You can also mail it in or make your pledge online at www.sdcatholic.org (be sure to designate St. Catherine Labouré as your parish). May the Lord bless you for helping us renew hope in our Diocese.
Our Assessment for the Annual Catholic Appeal in 2020 was $50,000. The Diocese received contributions on our behalf of $60,321. Therefore, our Parish will receive the overage of $10,321. Thank you for your support: even in this pandemic year we made our assessment and went over it!