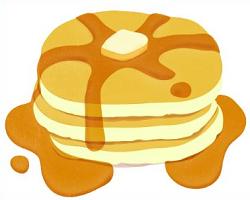 11/12/2023
9:00 am - 11:30 am
Parish Hall at St. Catherine Laboure
4124 Mount Abraham Ave
San Diego, California 92111
The Men's Association is hosting a Pancake Breakfast. Please come join us after the 8:00 and 9:30 a.m. Masses. Breakfast will be $5.00 per person with a maximum of $20.00 per family. Enjoy a delicious plate of pancakes, eggs, sausage, fruit, coffee or juice. See you there!
If you are serving or have served, please stop at the table in front of the church to receive a ribbon to identify and acknowledge your service. You will also receive a free pancake breakfast, sponsored by the Men's Association. We thank all the men and women who have served our country. ~The Santa Teresa Guild